Submitted by

jcaruso

on Wed, 02/08/2023 - 21:24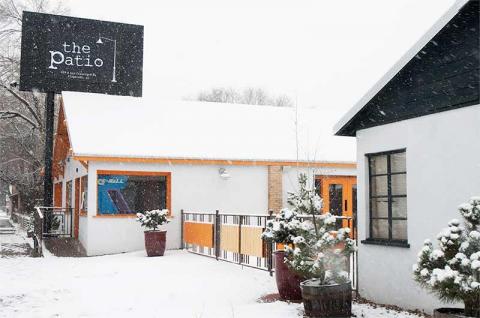 When David Carpenter was a student at Northern Arizona University, he often wondered why restaurants were so far away from his dorm. Now as the owner and project manager of Hope Construction, he is bringing a buffet of dining options within a comfortable walking distance of the NAU campus.
Carpenter is developing a restaurant row on the 400 block of San Francisco Street, just south of Butler Avenue. The block's anchor tenant (at 409 San Francisco Street) is The Mayor, the fifth restaurant of the Plated Projects dining group, which owns Taverna, Busters, Oakmont, and the Fieldhouse. "We decided to come to South San Francisco after hearing about David's vision for the block. We are excited about being part of the revitalization that is happening down there," says Ryan Field, one of the restaurant owners.
Sandwiches, burgers and childhood classics (with a modern, homemade twist) define The Mayor's menu. A showstopper on the restaurant's back patio is the shiny 1971 Airstream "Land Yacht" that has been converted into a pop-up bar, which will feature eight beers on tap. The Airstream is a bow to the days when Flagstaff was a stop on fabled Route 66. Other throwbacks include the restaurant décor—striped couches, shag rugs and a skee ball video game—and a playlist that includes classics from Fleetwood Mac, Kiss, Marvin Gaye and T-Rex as well as sitcom theme songs.
"The Mayor contains all the best elements of a tremendous good time in a good friend's home," Field explains. The restaurant's grand opening is in December.