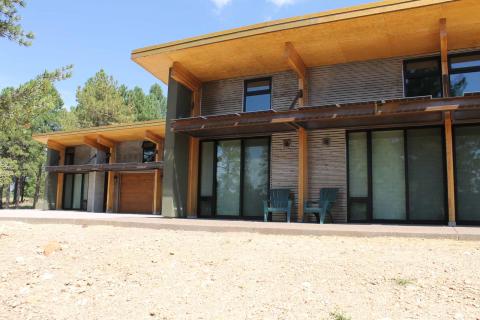 Flagstaff And Northern Arizona's Expert solar panels
Hope Construction is Flagstaff and Northern Arizona's expert at energy efficient residential planning and construction. With our comprehensive green building techniques, you can maintain a modern lifestyle without sacrificing personal comfort while at the same time reducing your energy costs. Some of the many innovative building practices we use include:
Solar orientation & day lighting techniques. This is an abundant source of energy in Flagstaff and Northern Arizona and therefore can be a powerful piece to any sustainable building project.
Advanced framing techniques save lumber & maximizes insulation efficiency.
Low-E glazed and argon filled thermal pane windows installed using the latest water proofing methods
Full perimeter air seal & modern water management techniques.
Advanced insulation Techniques that can save thousands on utility bills
Conditioned attics
Insulated floor slabs & stem walls
High performance heating & hot water distribution (including solar hot water & solar heating hot water)
Construction waste recycling, down-cycling & minimization
Fresh air ventilation & heat recovery. As today's home become ultra energy efficient, they start to benefit from smart ventilation systems that allow fresh air without the energy loss that typically implies.
Low or No VOC paints & sealants
Motion controlled lighting coupled with CFL or advanced LED bulb technology
Use of local Flagstaff and Northern Arizona materials when available
Photovoltaic (PV) power
The sum of these practices creates a whole that maximizes energy efficiency, utilizes resources, and makes the home healthier and more comfortable for the occupants.
Hope Construction is an APS ENERGY STAR Partner. We have agreed to build all our homes using EPA ENERGY STAR as a minimum standard. We are proud to have built 21 ENERGY STAR homes in the last 5 years.